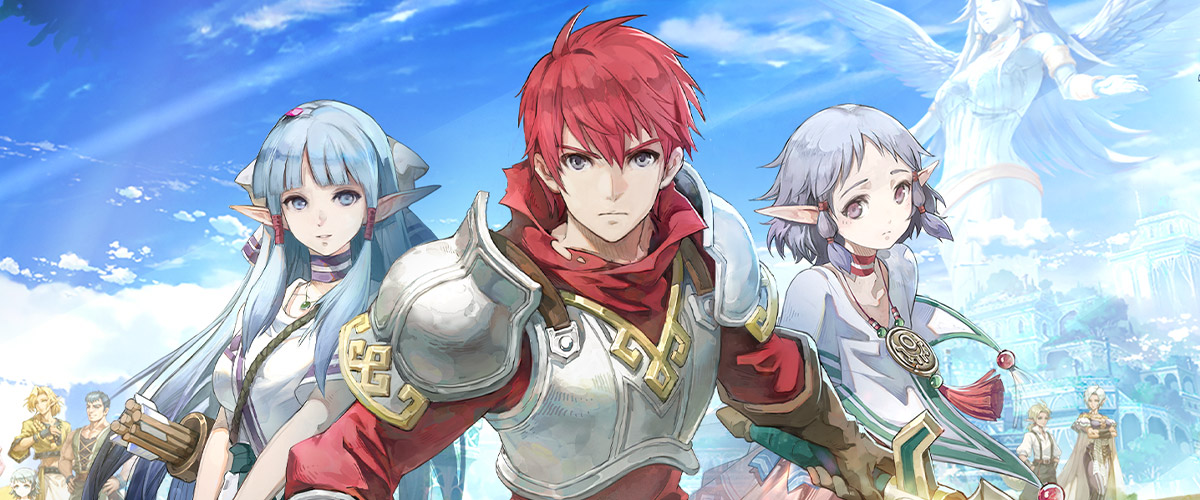 Arm yourself, as a cult classic Japanese role-playing game, Ys VI: The Ark of Napishtim (a.k.a Ys 6 Mobile) is launching its open beta to gamers in Singapore, unleashing the mystical realm of the 30-year-old cult classic game, and the sixth installment in the Ys series, to a new generation of mobile gamers across the country.
Developed by Japan's most prestigious game studio, Falcom, the mobile port of the popular 2003 console RPG game made its mobile debut in July 2021 in Japan, before releasing in Taiwan, Macau and Hong Kong, where it topped the charts on both Apple and Google Play stores, with over 3 million downloads. Riding the wave of success, the game is now making its way to local shores, and fans of the series, when it was then available on PC and game consoles, can relive the adventure in one of the RPG games. most acclaimed ever released.
In Ys 6 Mobileplayers embark on a breathtaking adventure through the island of Canaan exploring every corner of Saint Zemeth Santum, from the village of Rehda, the port of Rimorge to the wild mountains and mysterious underwater caves, and unveil the ancient secrets of the earth.
Adventurers will play alongside Adol, a world-renowned adventurer who has written thousands of volumes of travel journals, and his companion companion. After an attack launched by a fleet of Romun ships, Adol finds himself on the Canaan Islands by the daughters of the chief of the nearby village of Rehda. It is from here that the adventure and the story unfolds.
To participate in the open beta, claim this exclusive, limited-time redemption code in game on Google Play and App Store.
"YS6SPECIAL"
This code offers players an in-game gift pack worth up to S$7 and can be redeemed from May 1 to June 30, 2022 only (T&Cs apply).
While the original game is 30 years old, the mobile version features major graphical updates, bringing the visuals on par with modern JRPGs, while retaining its classic PlayStation2 aesthetic, to give fans a dose of that well-known graphical style. loved Ys. The mobile port also comes with an exciting soundtrack and background music, as well as a variety of in-game challenges to keep fans coming back frequently for more exciting adventures.
With the introduction of adventures across the world, players will be able to meet other players online and build up a roster of comrades to support them on their fantasy journey as they battle through dungeons, mode story, boss raids and treasure hunts.
The vast world of Ys is now more social and interactive, as players will be able to engage in a variety of multiplayer activities, ranging from leisure activities such as furnishing, farming and collecting herbs, to creating a guild and forming raid groups to defeat tough bosses.
The game also offers players the opportunity to forge romantic relationships that can culminate in great in-game marriages complete with exciting couple gifts. Players can also conjure pets to accompany them on their adventures, while enhancing their pet's combat abilities and giving them stylish makeovers.
Right off the bat, players can customize their character and choose from five different character classes, ranging from a brutal warrior, agile ranger, stealthy samurai, clinical assassin, or spellbinding mage. Character progression is an indispensable aspect of every adventurer's journey, allowing players to shape their characters into one of nine subclasses.
For more information about the game, visit the official website and follow the game on its social networks: Facebook, Facebook group, instagram, ICT Tac& Youtube.
---
This article is brought to you with VNG Games.
Passion and love mean little to the Baroness. No man can ever be its master. Where there's terror to sow and make money, that's where it'll be with guns akimbo.
---
Drop a Facebook comment below!