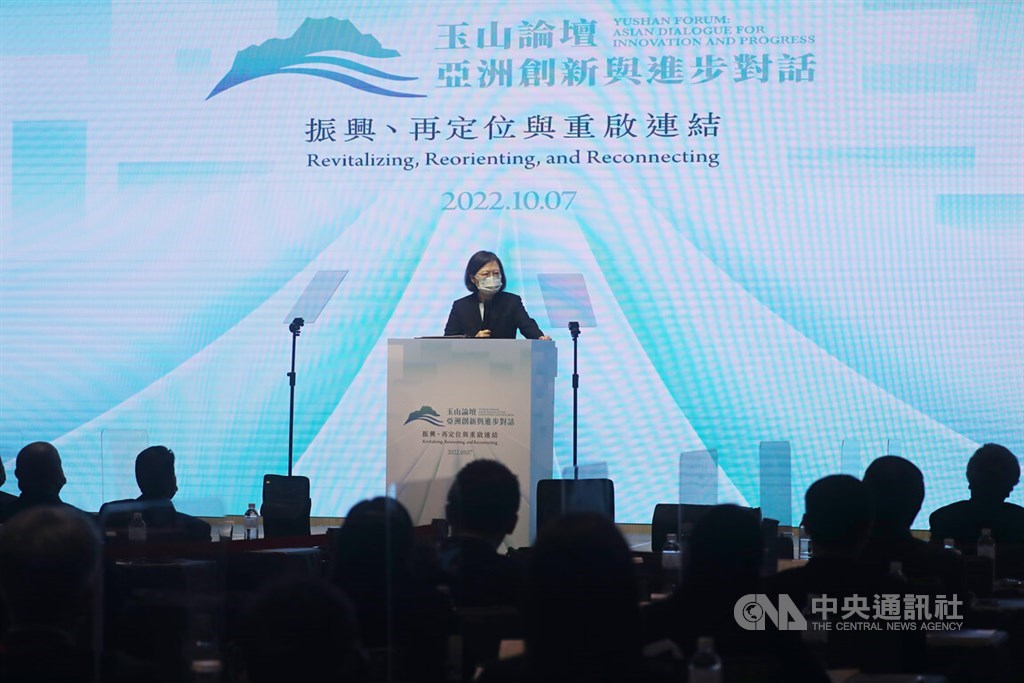 Taipei, Oct. 7 (CNA) Taiwan seeks to play a "crucial" role in the development of the Indo-Pacific region in the post-COVID-19 era, President Tsai Ing-wen (蔡英文) said on Friday during of the opening of the Yushan Forum in Taipei.
Taiwan can be "a crucial player" in the Indo-Pacific region in the post-pandemic era by aiding regional and global economic recovery and contributing to supply chain restructuring efforts, Tsai argued.
"While Taiwan finds itself at the forefront of authoritarian expansion, our resilient economy and industrial supply chain remain a vital part of the regional ecosystem," she said.
Tsai pledged to put more emphasis on the Government's New Southbound Policy (NSP), an initiative launched by the Tsai administration in 2016 aimed at expanding Taiwan's economic, cultural and political ties with Asia. Southeast, South Asia, Australia and New Zealand.
The NSP will be Taiwan's "pivotal regional policy for Asia" as it works to "strengthen our security and economic ties with our partners in the region", Tsai said.
The government will actively integrate Taiwan's capability in high-tech industries with the existing NSP to promote "a new southern digital initiative", she said.
According to the president, Taiwanese companies have significantly increased their investment in the 18 countries targeted by the NSP over the past six years, with Taiwan's investment in these countries reaching $2.2 billion between January and July this year.
In the first quarter of 2022, profits from investments in those 18 countries by listed Taiwanese companies exceeded profits from investments in China by those same companies for the first time, she said.
Also at the opening, former Japanese Prime Minister Taro Aso said in a pre-recorded video that he felt responsible for further strengthening Taiwan-Japan relations following the death of former Japanese Prime Minister Shinzo Abe.
Abe, Japan's longtime prime minister, died on July 8 at the age of 67, hours after he was shot twice by a man armed with a makeshift rifle on a street in the city of Nara, near Osaka, during an election rally. He served as prime minister from 2006 to 2007 and 2012 to 2020 and was seen by some in Taiwan as a strong supporter of the island.
Aso, who is currently vice-president of Japan's ruling Liberal Democratic Party, also condemned Russia for "military aggression" against Ukraine, saying attempts to unilaterally change the status quo by force are "not allowed anywhere." part in the world".
Japanese parliamentarian Keiji Furuya, meanwhile, said like-minded countries should work together to prevent a "crisis" in the Taiwan Strait while expressing concern over China's growing military pressure on Taiwan.
"No one benefits from such a decision, and it will only harm the peace and stability of the region," said Furuya, who is chairman of the Japan-ROC Diet Members Advisory Council, a parliamentary group. of 270 members dedicated to promoting Japan-Taiwan relations.
Furuya said peace and stability in the Taiwan Strait is important not only to Taiwan, where about 24,000 Japanese currently live, but also to the international community.
"A contingency in Taiwan means a contingency for Japan and a contingency for countries that share common values ​​of freedom, democracy, rule of law and basic human rights," he said.
The sixth edition of the Yushan Forum will include speeches and panel discussions from former government officials, lawmakers, academics, business leaders and representatives of civil society groups from 12 countries, the organizer said. of the event, the Taiwan-Asia Exchange Foundation (TAEF). .
Also attending the forum are Rose Gottemoeller, former NATO Assistant Secretary General and US Under Secretary of State for Arms Control and International Security, and the President of Palau, Surangel Whipps Jr., among others.