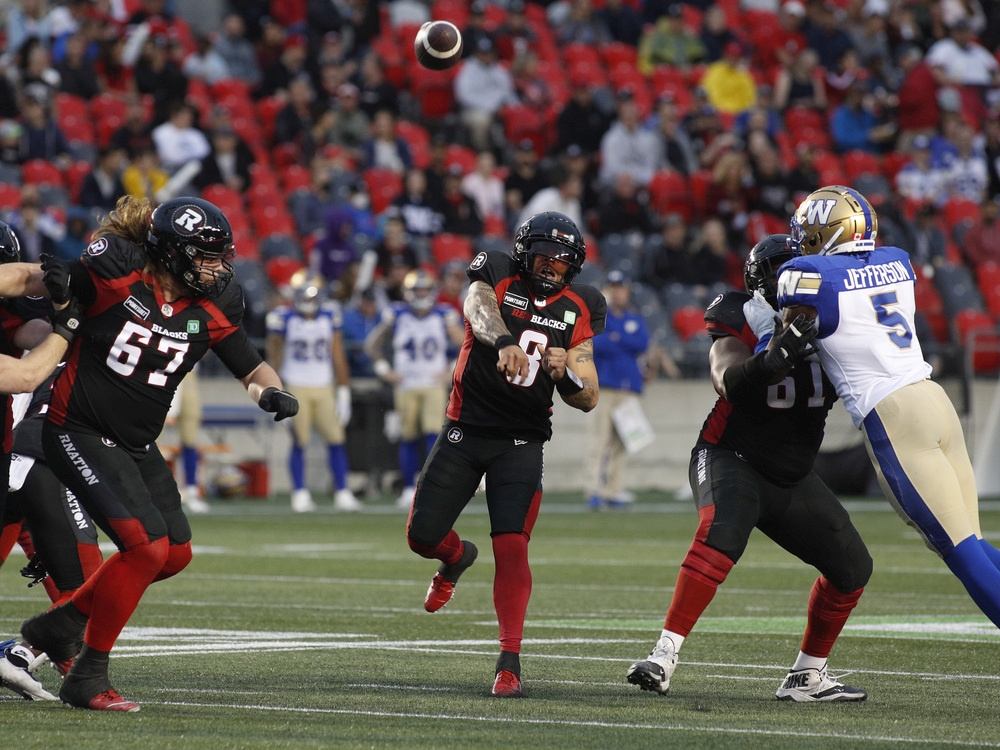 "The moral victory: 'Hey, we're fine, but…' I don't think that's going to help us in the locker room."
Content of the article
Nate Behar summed it up shortly after Friday night's tough 19-12 loss to the Winnipeg Blue Bombers.
Content of the article
"Finish."
Much like in Week 1 – a 19-17 loss, also at the hands of the Bombers – the Ottawa Redblacks were unable to complete offensive practices in their first home game. Four field goals. None touched. The Blues in the red zone. Now, with a bye week ahead of them before they face the BC Lions at home on Thursday, June 30, there's a lot to settle.
Content of the article
"Finish," said Behar, who caught seven passes for 91 yards. "It's a simple word. I'm sure it's going to be stuck on every wall. When we come back from the week off (Head Coach Paul LaPolice) might have a tattoo on his neck, with the word "Finish." The receivers were talking…we felt incredible confidence from the 25th to the 25th. It was just easy – hit this, hit that. Then it crackled. Some of them were penalties, some were lack of execution. Maybe we're trying to go too fast, not breathing. We need to fix this problem, figure out what's wrong there and get rid of it.
Content of the article
The Rougenoirs outplayed the defending Gray Cup champions in each of Weeks 1 and 2. On Friday, the Rougenoirs were better in almost every area except the scoreboard, which matters most. Ottawa once again dominated the first half, but had only three field goals to show.
"I don't want to do the whole moral victory thing," Behar said. "There's a big difference between a moral victory – with people patting you on the back and you might not get what you need out of it, which is to work hard and get better – versus we're 0-2, let it sting, soak up the week off, but have that hunger to be better. The moral victory: 'Hey, we're doing well, but…' I don't think that it will help us in the locker room."
Receiver Jaelon Acklin, who caught seven passes for 77 yards, said he thought the Redblacks "played pretty well." We can't make mistakes, myself included. We're a game or two away. We're going to eliminate the week off and make the most of it.
Content of the article
Two turnovers, both on failed third-down attempts in the fourth quarter, and penalties (10 for 96 yards) hurt. An obvious kicker penalty on Adam Auclair late in the game was the final dagger. It's also worth pointing out that the officials had a night off, with head-scratching penalties back and forth.
Redblacks quarterback Jeremiah Masoli followed up last week's 380-yard passing effort with 320 yards. He looks confident and in control, which Ottawa has lacked in the last two Canadian Football League seasons.
Asked about missed opportunities, Masoli said: "Two come to mind: trial and error; which led them to score a touchdown. It's on me, 100 percent. And then throw it to Darvin (Adams in the end zone). I had a bit of pressure to the right, but if I threw him a bit more there… He routed the guy. Our level of expectation is to win a championship. We work every day to win a championship.
Content of the article
It is difficult to determine what happened in the second half of each of the first two games. Obviously, the Bombers redouble their efforts. But there was also a disappointment among the Rougenoirs. It's about sinking your teeth into an opponent and not letting go. Finish…there's that word again.
"It was a bit flat, which is frustrating," Behar said. "We have to try to control our energy a little better. Get on the ups and downs and stay balanced and keep your foot on the throttle the whole time. We still did some good things in the second half. We moved the ball again and the defense was making plays. But the energy must be matched throughout the process.
For the second week in a row, Les Rouge et Noir did not call a time-out late in the first half despite having the ball near midfield. But get this: Ottawa was going downwind, probably needing to advance the ball 20 or 25 yards before entering the shooting range. Also – and I was wrong – each team only gets two timeouts per game, not two per half. So coaches make sure to protect timeouts, because they really need to save at least one for a potential challenge, unless they're really sure of getting points.
Content of the article
The voices of veteran players will be heard as the Redblacks breathe and prepare for the Lions.
"We have a lot of guys staying (on the bye week)," Masoli said. "One of our leaders, Avery (Williams, linebacker), said, 'Don't waste time, don't sit on the couch. Come back healthier and fitter. Mentally flush everything and we'll come back and launch.
"We have a week off to learn," Acklin said. "If we don't learn, we will die."
"It's about figuring out that you have enough space to do great things and then figuring out what hasn't been good enough to do it," Behar said. "It's not about restarting everything, blowing everything up. It's like, 'OK, we know we can do X, Y, and Z, we've been throwing for X yards. How can we improve it? That has to be the goal, cleaning up our trash, cleaning up the stuff we killed ourselves over.
Content of the article
REDBLACKS BULLETIN
Offense B-: Lots to really like. Masoli looked sharp again. The offensive line was solid despite three sacks. Running back Devonte Williams rushed for 85 yards on 12 carries. And receivers are a force. But the team must start pushing the ball into the end zone.
Defense B+: Really good in the first half. Gave up yardage in the second half, when Winnipeg put their game on track. Money Hunter had one interception and five tackles. Frankie Griffin had seven tackles, Avery Williams had six. Lorenzo Mauldin IV and Tre Hornbuckle each had a bag.
Special Teams D: A unit that consistently gets high marks here didn't have its best night. Reliable Lewis Ward missed one of five field goal attempts. Richie Leone, one of the CFL's best punters, averaged 38 yards. And a brutal kicker penalty on Adam Auclair was the final nail in the coffin.