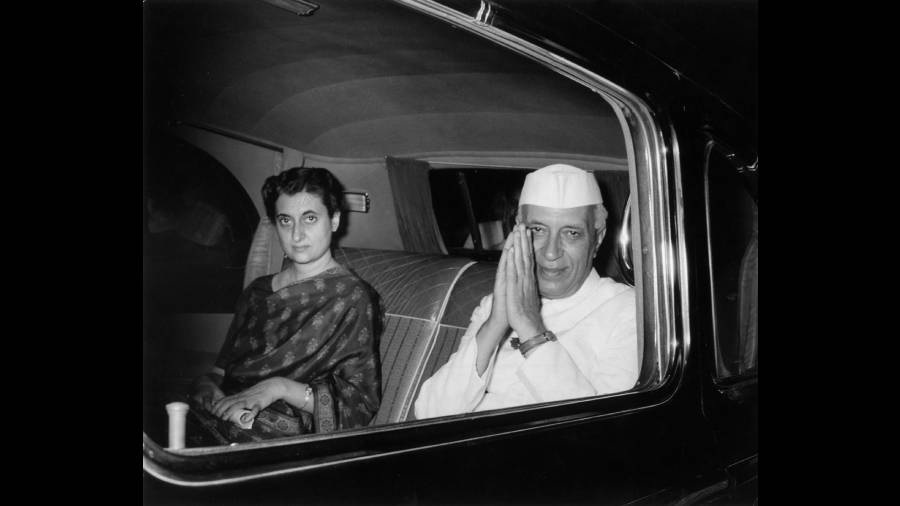 The tendency of the current regime to designate Jawaharlal Nehru as responsible for any of their problems is now legendary. It has not gone unnoticed that in its critique of dynastic policy, the regime does not attack
Indira Gandhi with the same determination. Urgency is a stain on independent India, an exceptional disruption of democracy that has dealt indelible blows to our regime and democratic aspirations and set terrible precedents for subsequent tyrants to emulate. Is this Indira Gandhi heritage treated with kid gloves by the current regime because the Emergency is their favorite model without even declaring it?
Indira Gandhi's personality and conduct were often at odds with what she claimed to believe. These contradictions are evident when you take a close look at her in different phases of her life – a youngster growing up in a household full of freedom fighters, being the daughter of Nehru while also being a partner of Feroz Gandhi, one of the harshest criticism of Nehru in Parliament, moving from heir apparent in Congress to his division. Its compelling political style and close self-identification with India during the Emergency gave rise to alarming authoritarianism and left our democracy mutilated.
It should be pointed out that, on the other hand, Nehru's ideas on Indian democracy were not based on an individual quirk of personality. They were based on a principled belief that the foundations of a multicultural democracy rest on the strengthening of civil liberties and the establishment of processes guaranteeing social justice and harmony, and not on an undue reliance on one's personal capacity to lead India. In this, Nehru was also aware of the serious warning about the role of "Bhakti" issued by Ambedkar in his final address to the Constituent Assembly. Ambedkar had made it clear that the path of hero worship in politics could lead to the eventual degradation of democracy and pave the way for authoritarianism.
Indira Gandhi's "emergency years" are probably a source of inspiration for the current regime; and the most difficult challenge to their project of reimagining India as "new" comes from the Nehruvian idea of ​​democracy and democratic functioning. Nehruvian's ideals and his legacy exert a deep and pervasive influence on the people of this land, including its detractors. "The Gentle Colossus," as veteran Communist parliamentarian Hiren Mukherjee called him, Jawaharlal Nehru largely embodies what is grand and laudable in Indian democracy.
In the last parliamentary session, the government rejected questions on subjects of national importance such as general surveillance and agricultural laws. The decision to restrict Question Time in the 2020 monsoon session was shamelessly undemocratic. Narendra Modi rarely answered questions about the departments and ministries he held. His silence on matters of importance and his absences from parliamentary debates remain a stark reminder of the deterioration of democracy in India.
Compare that to Nehru, who, despite an overwhelming majority in Parliament, has never sidelined opposition and given dissent the space it deserves. He did not shy away from uncomfortable questions and attended debates and speeches intended to criticize him. For example, during the much-condemned Chinese fiasco, Nehru made as many as 32 statements and interventions on China before Parliament. He was present in Parliament even on days when the Prime Minister's business was not listed and participated in debates that did not strictly concern the functioning of his ministry.
Putting into practice the ideas and values ​​of the rulers of the newly independent India, Nehru took on the unique task of building a nation rather than just administering it. It is quite conceivable that when Prime Minister Narendra Modi told Parliament in 2018 that rich democratic traditions have long been part of Indian culture and that India does not owe democracy to its first Prime Minister, he was revealing simply his blind understanding of the past.
Jawaharlal Nehru was a true democrat who laid the solid foundation on which we stand today and we are proud to be the greatest democracy in the world. He deeply believed that Indians could not just embrace democracy; they had to develop it. Nehru made a point of emphasizing that democracies made no particular claim to survival. Democracies are as likely to fail or succeed as any other political institution. In this he seemed to fully agree with his venerable colleague, BR Ambedkar who had argued in his last speech to the Constituent Assembly that if the Constitution provides the model for the functioning of the state, it is for the people to "realize their wishes and their policies ".
An irresponsible government before Parliament seems to put an end to this far from perfect, but laboriously constructed, democratic philosophy of our country. Today, sadly, it wouldn't be an exaggeration to say that India is a functioning electoral democracy that lacks the very elements that make vibrant and open democracies – inclusion, deliberation and accountability.
In a letter dated March 1, 1950, Nehru wrote: "Loyalty does not come about on command out of fear. It is a natural increase in circumstances that make loyalty not only attractive but also profitable in the long run ". In the same letter, he offered long-term political solutions to consolidate India by ensuring that all minorities in the country are at home. Nehru warned that even if India would survive any attack on its secular moral characteristic, it would be seriously injured and take a long time to recover.
The controversial Citizenship Amendment Act (CAA) passed amid the protests challenges this vision of inclusiveness. Constitutional experts as well as international watchdogs have observed that the amended law would exclude Muslims. We have not learned the right lessons from the Assam experience of the consequences of such policies.
It is undeniable that democratic forces in India have come under pressure in recent times. It is inevitable that the dark memories of the Emergency have been invoked, as we see these same practices normalize today. Activists, journalists, politicians and students are threatened by the systemic abuse of institutions. The media were formally censored for 21 months after the state of emergency was imposed in 1975. Today we find ourselves largely with a media expert in falsification, misrepresentation and distortion of reality. On the other hand, self-reliant media entities see dizzying restrictions imposed on their freedoms through questionable methods, without any formal suspension of their rights. Central agencies are used as tools to frighten those who dare to openly oppose and question. Arbitrary Internet shutdowns, restrictive computer guidelines, and proposed changes in the Cinematograph Bill (Amendment) are just a few of the actions of the NDA government that make it clear to us that controlling expression and opinion remains its top priority. Imposing sedition laws without due process was deeply concerning, as a sitting judge had to remark: "The offense of sedition cannot be invoked to serve the wounded vanity of governments." Vanity is probably another quality that holds the current regime in the grip of Indira Gandhi.